Monday, July 16th, 2007
Take out an insurance policy on your blog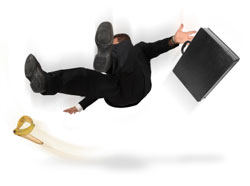 There are times that life throws you a bunch of rotten tomatoes. Chaos starts pulling your strings like a mad puppeteer. All of a sudden your blog hasn't been updated for so long you can't remember the password to login.
Sorry for the neglect and thanks for sticking with me.
When life throws you rotten tomatoes, why not make rotten tomatoeade?
While I was lying in bed enjoying fever dreams in Technicolor and Dolby surround, I got to thinking – why, oh why didn't I plan and prepare for this. Shouldn't a blog have an insurance policy?
Blogsurance
Here's what I think would be a great insurance policy to keep your blog humming along nicely when you aren't:
Get a second feed reader or open a second feed reader account and subscribe to a few of your most critical feeds. When you follow a lot of conversations, its all too easy to follow nothing when you are overwhelmed. You need to turn your river of news into a trickle. Keeping just a few feeds in a reader will help you to follow the general ebb and flow of your corner of the blogosphere with minimal time and effort. I suggest including blogs that don't post too frequently but that typically cover anything of significance. Another alternative to this for some would be to use an aggregator such as Megite to follow your topic at a glance.
Write a few articles in advance and save them for those rainy days. When you've got a 101 degree fever its no time to be writing. Preparing a set of articles – perhaps even a series – that you can pull out of the closet is going to be great medicine and keep your readers engaged. Make sure that the articles that you write have a long shelf life. Nobody likes the smell of stale mothballs.
Scheduled publication is your friend. Instead of stumbling into your desk all groggy each day to publish one of your pre-written blog posts, do it all in one setting and schedule them to be released in advance. This is particular easy to do by fiddling with the publication date in WordPress and in similar types of blog software.
Oh, and don't forget the Vitamin C…